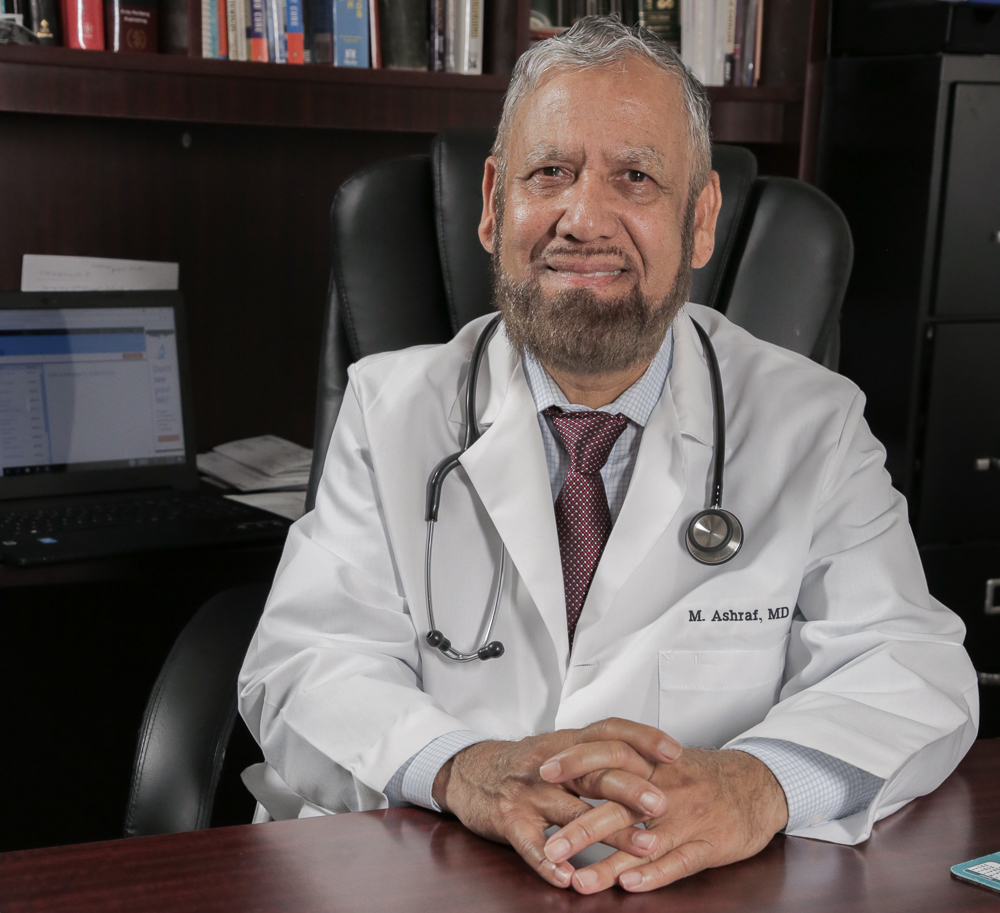 Dr. M. Ashraf, M.D. MRCP - Founder of Natural Relief Inc.
Dr. M. Ashraf, M.D. MRCP, is the visionary founder of Natural Relief Inc. With a profound commitment to holistic well-being, he has made significant contributions to the field of healthcare. Dr. Ashraf's journey in the medical profession began in 1980 as an internist, setting the stage for a lifelong dedication to patient care.
His relentless pursuit of medical excellence led him to specialize in Pulmonary and Critical Care during his tenure in Saudi Arabia, where he successfully passed the MRCP step 1 and step 2 exams, underlining his commitment to advancing his medical knowledge and expertise. Notably, he had the exceptional privilege of serving as the exclusive physician to HRH Prince Turki Bin Faisal, son of King Faisal of Saudi Arabia, a testament to his exceptional medical skills.
Driven by his dedication to providing top-tier healthcare, Dr. Ashraf relocated to Pittsburgh, Pennsylvania, to learn from leading researchers at the University of Pittsburgh Medical Center. He achieved board certifications in Internal Medicine, Pulmonary and Critical Care, and Echocardiography, confirming his commitment to excellence in patient care.
However, Dr. Ashraf's commitment to patient care extends beyond conventional medicine. He ventured into the world of holistic healing, gaining certifications as a Homeopath provider, exploring the ancient knowledge of Ayurvedic medicine and the cutting edge research in Stem Cells and various stem cell therapies. His deep understanding of herbs, their characteristics, and chemical composition fueled his passion for natural healing alternatives.
In 2002, Dr. Ashraf embarked on a transformative journey, founding Natural Relief Inc. This venture reflects his unwavering commitment to enhancing well-being through natural and holistic means. At Natural Relief, Dr. Ashraf has dedicated himself to formulating a diverse range of herbal Dietary supplement blends designed to provide effective and natural support for a wide range of health needs. They do so without making claims of healing, curing, or preventing specific ailments, in adherence to FDA regulations.
Natural Relief Inc. is a beacon of hope for individuals seeking a holistic approach to health and wellness. These supplements are the result of meticulous research, combining traditional practices with the latest advancements in herbal dietary supplement to offer support for overall well-being and a balanced lifestyle.
Our Commitment at Natural Relief Inc.
At Natural Relief Inc., we are driven by a mission to support the nutritional supplement industry by providing the highest quality products. As a family-run organization, we are dedicated to providing the highest-quality vitamins and supplements. We believe that natural herbs represent a safe and effective way to promote your health, energy, and vitality. Our firm offers natural vitamins and herbal formulas manufactured under the strictest quality standards for maximum effectiveness.
Our Unique Approach to Herbal Supplements
Our herbal supplements are uniquely formulated to meet an extensive range of health interests. While some nutritional supplements are manufactured using unwanted components, Natural Relief Inc. realizes the significant importance of dissolution, assimilation, and bioavailability. Therefore, we use only the highest quality ingredients sourced from nature in all our products, and we have been doing so for over 20 years.
Quality and Safety Standards
Our products are manufactured under Good Manufacturing Practices (cGMP) certified by the Food Safety Division of the Ohio Department of Agriculture. NatRelief formulations are uniquely effective and have no known side effects on their own, making them safe and effective for many of the health problems facing our society today.
At Natural Relief Inc., we're passionate about our business, and we look forward to sharing our supplements with you. Our commitment to quality, safety, and natural healing alternatives sets us apart in the industry, and we are dedicated to providing you with the highest-quality products to support your health and wellness journey.